Despite being the only absolute certainty in human existence, death is still taboo in many societies. The finitude of human life is a delicate moment that generates a great emotional weight. Talking about the subject is always a difficult task that requires sensitivity and clarity. The mere thought of death is still very uncomfortable even for adults. Among the condolences, wreath of flowers and courting, emotions and fears merge into grief, sadness, and anguish, taking time to be processed and overcome through grief.
And the subject becomes even more complicated when there is a need to treat it with children. When the loss of a pet happens, or in the event of the death of a family member or reference adult, children still do not have a world repertoire capable of understanding the complexity of death. The child intellect begins to develop this abstract concept through associations, that is, by adding new facts to the world it already knows.
With that in mind, an Austrian cemetery has found a playful alternative to help broach the subject. Known as the Funeral Museum, the Bestattungsmuseu created funeral scenes from the well-known LEGO pieces.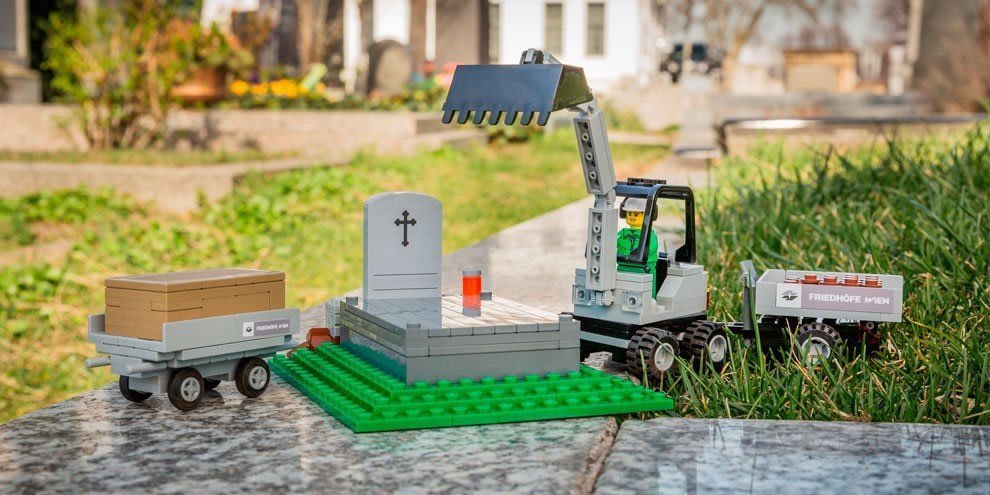 Dealing with death in a playful way
Famous for being one of the largest in the world, with over 330,000 graves and graves, Vienna's central cemetery is home to distinguished names from the history of the capital. There are classic composers like Joaham Strauss and Ludwig van Beethoven. And now it sells these unusual toys.
According to Bestattungsmuseum spokesman Dr. Florian Keusche on the Bored Panda website, the first LEGO funerals developed in 2016 reproduced historical context, such as the tram that carried bodies to the cemetery during First and Second World Wars. Still according to Dr. Keusche, consumers themselves asked questions such as "Can we take our son to our grandfather's funeral?" Or even "My son is in mourning. What can I do?".
That's where the museum team came up with the idea of producing other scenes with the toy pieces. Keusche states that the project has been integrated with the Viennese Association of Psychotherapists and that the scenarios in LEGO are useful for parents with losing children, allowing them to describe this delicate process for the child, who will also have the means to process this new information.
These are not official LEGO parts and were developed in partnership with an Austrian company. Scenarios depicting cemeteries, hearse, wagon processions, and even a crematorium range from € 29.90 to € 112 and are for sale on the museum's website.